Hurricanes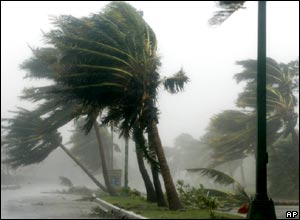 What is the likelihood of getting hit?
Beaufort County does not make hurricane projections. This is done annually by the federal government. Those who are interested can visit the National Oceanic and Atmospheric Administration (NOAA) website, www.noaa.gov . But emergency management officials want to remind you and your family to be prepared. Have a hurricane kit ready if a storm were to approach the Coast and an evacuation was ordered.
How can I prepare my home?
There are many things you can do to prepare your home prior to an evacuation. The first, most important one is to make sure you have a current home owner's insurance policy and an additional flood insurance policy. Even if you reside on what is considered high ground in Beaufort County, flood insurance is still recommended. If you are a renter, you may want to purchase a renter's policy to insure the contents of your home. Here is a link to Beaufort County Emergency Management's brochure page where you will find more preparedness information:
http://www.bcgov.net/departments/Public-Safety/emergency-management/brochures.php
How do I prepare my children for a hurricane? Disasters may strike quickly and without warning. These events can be frightening for adults, but they are traumatic for children if they don't know what to do.
During a disaster, your family may have to leave your home and daily routine. Children may become anxious, confused, or frightened. It is important to give children guidance that will help them reduce their fears.
Children depend on daily routines: They wake up, eat breakfast, go to school, play with friends. When emergencies or disasters interrupt this routine, children may become anxious.
In a disaster, they'll look to you and other adults for help. How you react to an emergency gives them clues on how to act. If you react with alarm, a child may become more scared. They see our fear as proof the danger is real. If you seem overcome with a sense of loss, a child may feel their losses more strongly.
Children's fears also may stem from their imagination, and you should take these feelings seriously. A child who feels afraid is afraid. Your words and actions can provide reassurance. When talking with your child, be sure to present a realistic picture that is both honest and manageable.
Feelings of fear are healthy and natural for adults and children. But as an adult, you need to keep control of the situation. When you're sure that danger has passed, concentrate on your child's emotional needs by asking the child what's uppermost in his or her mind. Having children participate in the family's recovery activities will help them feel that their life will return to "normal." Your response during this time may have a lasting impact. – American Red Cross
When can I come back after a storm?
You may call the Beaufort County Hurricane Hotline for the latest re-entry information: 1-800-963-5023. If the hotline is inoperative – you can check the home page of this website for timely news announcements. If the County website is operational, you can check there as well for current information: www.bcgov.net or visit the South Carolina Emergency Management Division at www.scemd.org. It is also helpful to monitor radio and television announcements. There is a list of local media in the Post Disaster Assistance Manual posted at this website under "Important Documents".
When can I start to rebuild?
You must follow the County permitting requirements outlined under the "Building Inspections and Permit Info" document beneath the "Rebuild" tab at this website. In short, a complete County reassessment must be conducted first – before building permits can be issued. County inspectors will then visit your property and let you know how to proceed. They will issue color coded building permits that indicate the following:
Green: This means you have minor damage and may proceed with repairs.
Yellow: Extensive repairs are necessary before your home is habitable. The inspector will leave instructions regarding how to obtain a building permit.
Red: Your home is destroyed and cannot be repaired.
If you have yellow or green cards, you will not be allowed to live in your dwelling until it is repaired or replaced. You will be able to put a temporary trailer or camper on your property with the appropriate permit issued by an inspector. Again, the inspector will visit your property and you will be able to get the permit then. Unless your home is a total loss, you are encouraged to mitigate any damages to prevent further damage to your structure. Possible forms of mitigation include tarping your roof, and or boarding up broken windows until they can be replace.
Do I need a special permit to rebuild my home?
Only if your home requires extensive repairs or is a total loss. County inspectors will visit your property and leave a card with pertinent permit information specific to your home. If your card is yellow or red you will need a permit. If it is green, you are free to make minor repairs to damaged doors, windows, floors, furnaces, air conditioners, water heaters and other repairable damages. See "Building Inspections and Permit Info" under the "Rebuild" tab.