PUBLIC NOTICE for Generator at Ladys Island Airport
Hazard Mitigation Grants
Joint Federal, State, Local Public Notice
The Federal Emergency Management Agency (FEMA) and South Carolina Emergency Management Division (SCEMD) have received an application for Federal grant funding through the Hazard Mitigation Grant Program (HMGP). Funding for this grant was made available after the 4241 Presidential declaration was made regarding the flood of October 2015. Funding for the proposed project will be conditional upon compliance with all applicable federal, tribal, state, and local laws, regulations, floodplain standards, permit requirements, and conditions.
Under the National Environmental Policy Act (NEPA), federal actions must be reviewed and evaluated for feasible alternatives and for social, economic, historic, environmental, legal, and safety considerations. Under Executive Order (EO) 11988 and EO 11990, FEMA is required to consider alternatives to and to provide public notice of any proposed actions in or affecting floodplains and wetlands. EO 12898 also requires FEMA to provide the opportunity for public participation in the planning process and to consider potential impacts to minority or low-income populations.
Applicant: Beaufort County
Project Title: Lady's Island Airport Generator
Project Description:
This project will guarantee a contingency for the Beaufort County Lady's Island Airport to be more capable of having operations continue even when power goes down to the facility. By having the unit be a trailered mobile unit, provides a more effective and efficient streamlined guarantee, to not only the mission of the airport, but also provides continuity to Air Operations for Beaufort County and outside agencies that may also have air operations. This unit can provide backup power to the emergency communication system, vertical lift doors, weather system, fuel farm, and also airfield lighting. With this piece of equipment being such a mission essential piece; attaching wheel locks, hitch locks and an air hitch attachment point will ensure that the equipment can be airlifted back to the airport after hazardous weather has cleared. This will provide a service to not only the Airport, but can become a resource to other agencies and county departments within the county. With having the capability to not only provide service to the airport but, also airlift this resource, will open up the door to be an asset to adjacent counties and provide support to their operations as well. This project is also taking into account refueling missions and is requesting installation of a fuel tank on the airport property to be self-sufficient and not relying on other county departments for refueling.
Project Location:
The backup power supply will be located at:
Lady's Island Airport: 39 Airport Circle Ladys Island, SC 29907
This location is in a special flood hazard zone as determined by the attached FIRM/wetlands map, but was selected due to the nature of it being a critical facility and the nature of the operations performed.
Alternatives Considered:
Another alternative for this project would be to have 2 fixed back up power supplies. One back up power would power the hangers and the other would be install to power the terminal building. Cost for the project would be quite larger than the mobile option and a larger back up power supply may be required. However having this option would allow the capability to power more than one option at a time. Location for the backup power may result on one side of the airport property and one resulting on the other side. This would ensure that connections were reached by the fixed units. By having fixed units, portable containers for fuel would be required, instead of transporting the unit to the fuel tank. This could possibly result in longer refueling times and also more fuel required.
Comments Period:
Beaufort County will be responsible for facilitating and monitoring the proposed project. Interested persons may direct any comments or questions to Pamela Cobb with Disaster Recovery at 843-255-2721 or email at pcobb@bcgov.net. These are due within 15 days of this notice.
Location of Generator at Ladys Island Airport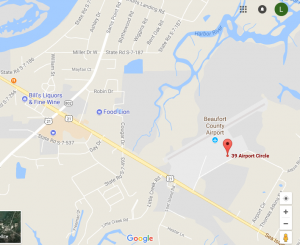 Firm Map of Ladys Island Airport